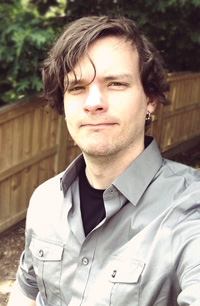 I'm grateful that I've been able to spend the last 14 years doing what I love as a creative designer and marketing professional. The places I've worked and clients I've helped over the years encourage me to grow, not in just one area of design, but allowing me to wear many hats and participate in crafting a wide variety of creative and data-driven marketing strategies in a team environment. Currently, I'm a member of a highly innovative marketing team in Raleigh.
Values:
One of my core values is constant curiosity. I love keeping up with and actively experimenting with new technology trends from augmented reality, JS libraries like Angular, and light projection mapping, all the way to advancements in molded-pulp manufacturing techniques. I also love pop culture and follow a little bit of everything ranging from graphic novels and eSports to culinary trends and behavioral economics. And sometimes I entertain periods of brief, intense interest in esoteric things like Victorian memento mori tokens (check them out – they're super interesting).
My other core value is to treat everybody around me with kindness. Not in a sappy or superficially 'nice' way, but I treat team members and those around me with genuine respect, curiosity, and sense of good faith to help build people up.